This article was #2 of the Top 25 most well-read articles on www.progressivedairy.com in 2012. to jump to the article. It was published in the March 30, 2012 Extra e-newsletter. Click here for the full list of the Top 25. This article was quite a learning experience for the PD staff. In addition to plenty of pageviews, the article received three online comments and even spurred some Twitter discussion:
@ DairyBullsOnlin : Hey @ DairyCarrie and @ jonlundgren check this out from @ PDmag Holstein with 3 Nostrils. http://tinyurl.com/8xzyqz3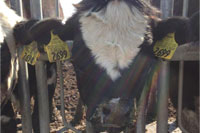 @ jonlundgren : @ DairyCarrie @ DairyBullsOnlin @ PDmag if only i could mate that one with my bulldog heifer (pictured at right)
But we also heard some pushback from those concerned about the photo.
One California dairyman said, "I saw the photos of the deformed calves. For me in the cattle industry, it is kinda like publishing photos of deformed humans. I don't see the upside for you of publishing photos like this. In the hands of the wrong people, there could be a downside."
Lesson learned. While we were sure to point out the heifer was healthy and the extra nostril had no ill effects, it's important to keep in mind that our dairy readers aren't the only ones with access to our website and that those images could be taken out of context. We welcome readers' continued feedback – good or bad.


ARTICLE :
Producer Jeff Maness noticed something unusual when the calf was born. She had a small hole in a round bump at the end of her nose. It's an extra nostril, according to Maness, who says it doesn't seem to bother the otherwise healthy 16-month old heifer.
She's now expecting her first calf on Maness' M and M Dairy near Statesville, North Carolina. See a photo slideshow of the heifer below.
We contacted Drs. Geoff Smith and Brinton Hopkins at North Carolina State University but neither had ever seen a cow with a third nostril. Has this ever happened on your dairy?
Let us know if you've seen this or any other "strange but true" event by leaving a comment below or contacting contributor Karma Metzler Fitzgerald. Click here to email her.
Note: Use left and right arrow buttons above to advance photos in the slideshow. Clicking the blue left and right arrows below will open other articles at www.progressivedairy.com.